Imagine Getting Married at Younger Ranch–where It's Not Just About How It Looks–but What It Means
Your wedding at Younger Ranch. Not just your wedding day, but the start of an amazing partnership and commitment, a lifelong journey, the start of your legacy.
… and not just another "venue" but our historic, picturesque, authentic ranch with a rich history–where steadfast values and beliefs set us apart.
Sure, we'll admit it. We do have the-best-damn-mountain-backdrop™ (just kidding that's not 'trademarked' hehe) for when you say, "I Do!" … but even we can't take credit for that one. That's the man above. ☝️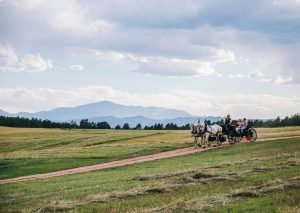 Whether you choose our "All-inclusive" package (our most popular) or our "Exclusive" wedding package you can rest easy and be confident in knowing you'll be able to ENJOY your wedding day because, well… we've become quite the wedding experts… 🙂
Amazing Weddings are Actually Orchestrated Works of Art and Have Many Little Details That Need to be Properly Coordinated and Executed
We take it seriously because it's a big deal (getting married).
… although we understand that things happen and sometimes best-laid plans often have quirks that need to be dealt with as they occur.
There's also something to be said for NOT taking things too seriously (we're talking to you "bridezillas")… 😉
We try to keep surprises to a minimum and that's why we're proud to partner with some of the very best in the business.
Smart experienced people–who are not only world-class at their specific job–but who can adapt to things that may come up.
It's the professionals we partner with who tie everything together (all the little details of your unique vision of how you imagine your wedding) to make your wedding a success…
Booking Your All-Inclusive Wedding Package At Younger Ranch Is a Dream Come True
Here's what you can look forward to when you book your All-inclusive wedding package with us: (see more details on our Packages page including our "Exclusive" wedding package)
First, you'll be able to relax and know you're in good hands. You'll be introduced to our partners at VenQ™ (our all-inclusive package management).
You'll receive a welcome email with details and a wedding planning checklist to put your mind at ease.
Over the next following weeks you'll set up a virtual meeting to chat wedding details, and you'll be connected with each vendor individually and gradually so you can customize your overall experience.
Once you begin the planning process with the VenQ™ team you'll be able to view your vendors, make notes, and access your timeline and floor plan all through the VenQ™ App
If the All-inclusive package isn't what you're looking for you can see our Exclusive package AND our NEW offering for 2023: The Texas Longhorn Experience here…