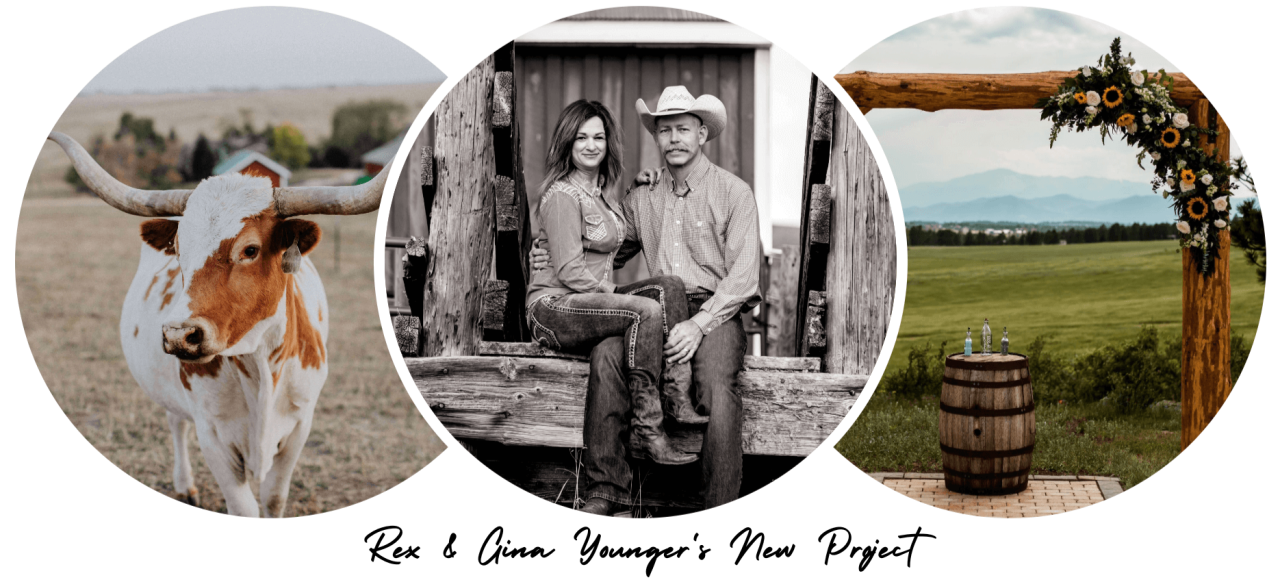 It's Not Just About the Wedding; It's About the Whole Journey – Your Life, Together. Forever.
We're excited to introduce our New Project: "The Rex & Gina Project"… Our NEWSLETTER where we'll be revealing our wisdom & experience (or lack thereof) from over 35+ years of marriage. 🤯
As the owners of Younger Ranch (where many amazing couples are now getting married and starting their lives together) we can't help but think back to the beginning of our journey.
To remember how innocent and pure our love was… hehe.
Now looking back it's amazing the life we built together.
And the growth both personally and together, as a couple, and finally as a family – it's been incredible.
But…
We Were a Little Naive to Say the Least
What's that old saying? Oh yeah, "love is blind?"
I was 19. Rex was 24. Should we have waited? Probably. But in hindsight we know that everything worked out the way it was supposed to.
Sure we regret some things. And that's why we're so excited we have this opportunity to share what we learned…
We're not dead yet!
Our golden years are now and still ahead of us.
What We Learned (Over the Years) and What We'll Be Sharing in the Newsletter…
How to NOT let "family" (in-laws) get in the way of your life and marriage… this is a life saver and a game-changer

How to create your own way (financially) and not have to limit your worth.. you and your spouse's DREAMS by someone else's idea of "reality"

How to develop yourself personally and grow together as a couple (the key to more fulfilling marriages)

How to keep having fun after the honeymoon phase

How to raise kids who don't embarrass you but make you proud

How to get (or stay) healthy, fit and sexy not only on the outside, but on the inside, yes you can be sexy on the inside, it's called confidence and strong mental health.
The Newsletter is for Couples:
willing to do the work (gain the skills and knowledge) to achieve their goals and dreams
couples who are in it for the "long haul"
who are excited and eager to keep growing and learning and working on yourself and your relationship (the greatest project you'll ever work on is yourself)…
who want to serve
for couples who know just how powerful and valuable investing in themselves and their relationship (marriage) can be…
People Who Want:
growth of their marriage, their life, and family
to feel proud about who they are and what they do and contribute to their family and friends
a lifestyle that reflects their values (time, money, relationships, purpose)
want to feel good about how they show up in the world
The Newsletter Is not for People Who:
… are looking to for hacks, secrets, (who aren't in it for the long haul, for the long game)

… unwilling to do the work (lazy, entitled)

… are addicted to fake progress, people who would rather trick themselves into thinking their making progress when they're not
If this sounds good to you, we'd love to have you join us on this journey.
---
 Commitment: our newsletter is our commitment to ourselves to keep learning and growing and a commitment from us to YOU to share the best of what we've learned and continue to learn on this journey.
Your investment is a commitment to yourself and your marriage/relationship to keep learning, studying, and growing. It's the most important (most fulfilling) investment we can make.
The Rex & Gina Project: ($99/month)
The Rex & Gina Project: ($997/year)
We use Stripe for payment processing. Once you click one of the "Join The Newsletter" buttons above you'll be taken to our Stripe checkout page. Enter your details and click "subscribe." You'll be added to the Newsletter automatically. 🙂
We look forward to having you on the inside.